详细说明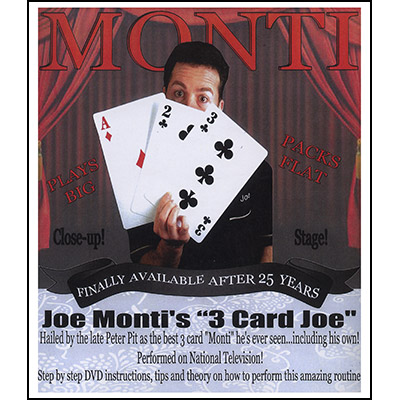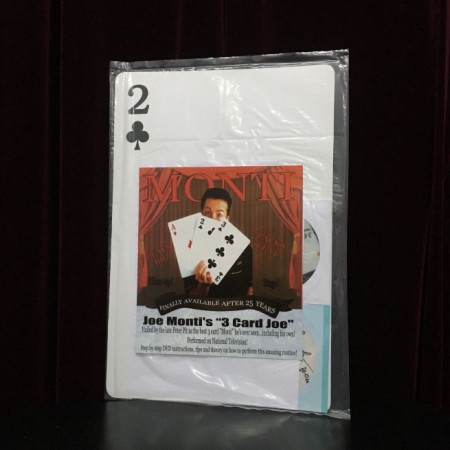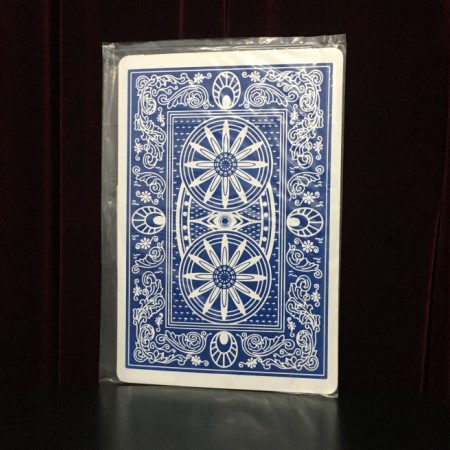 Joe Monti'S 三张大牌(尺寸41.5cm*28cm)
为什么这个时候还要买Joe Monti'S三张大牌?
1.这不是一个小的纸牌戏法,这个牌特别大(尺寸41.5cm*28cm).这将成为一种罕见的效果,可以作为大并宏伟的舞台上表演的魔术!
2.这将会成为一个你常规的保留节目,因为它的效果是"赢得观众的掌声"!
3.这是我们所喜欢赌徒三张牌魔术并且它是我们所追求的三张牌中的王牌!
4.这是专业人士所用的专业道具!
它强大的程序段将使您的成为一个拥有专业知识技艺娴熟的喜剧魔术师.你将可以随意表演。
它完美的表演流程适合于私人表演.企业活动.筹款.游轮.喜剧俱乐部.儿童节目.近景.舞台.电视节目中表演,因为这个三张牌实在是大!!使你拥有一个更大的观众群体!!
N多国外专业魔术师强烈推荐!!
近景魔术成为舞台互动魔术表演的一个新的程序,可以代替一些其他笨重的道具!
同时Joe Monti通过简单易学的教学方法带你达到演示中所有细节效果.
全套道具包括:三张大牌(纯塑料制,每张尺寸41.5cm*28cm)+2张DVD原版教学
视频演示:
http://v.youku.com/v_show/id_XMjg3NTQ0MTM0OA==.html?spm=a2h3j.8428770.3416059.1
3 Card Joe X-Large Cards (11X16 on Heavy Card Stock, 2 DVD's & Worldwide Performance Rights) -DVD
DESCRIPTION
Why should I buy this when there are other 3 Card "Monti's"?

This is NOT a small close-up card trick. The cards are BIG. It is a rare effect that plays as big and grand as an Illusion yet
can be done up close as well as on stage!
This will be the one routine you'll keep in your act because it's designed to "bring the house down"
It's like Three Card Monarch & Chase the Ace on Steroids!
This is a PROFESSIONAL effect for PROFESSIONALS!
3 powerful segments of the routine validate your expertise as a skilled serious or comedy magician. You can play it either way.
Perfect for trade shows, private shows, corporate events, fund raisers, cruise ships, comedy clubs, children's shows, close-up,
stage, & TV because the cards are held in front of you and above your waist for a bigger audience to view!
Joe Monti takes you through the easy to learn method & demonstrates every move & nuance in detail on the enclosed DVD's. Theory
included. This personal instruction alone is worth the price of the kit!
Close-up Magicians become Stage Performers and Stage Performers will have a fresh new routine that can replace a big bulky
illusion!
What Successful Pro's are Saying:
"You can't do better than this routine direct from a professionals repertoire" ...
- Jeff Hobson
"Practical. Simple, compelling plot. Clean handling and lots of surprises. What more do you want?"...
- John Carney
"This is a killer deal for a killer routine. I highly recommend it! You're getting 25 years of experience handed to you on a
silver platter!" ...
- Tony Clark
"3 card Joe has an important feature; It's a solo piece. No audience members on stage...the "Holy Grail" that stand-up
performers search for. I don't care who you are, if you put "3 Card Joe" in your act, you will not be disappointed." ...
- John Lovick aka Handsome Jack - Writer/Thinker/Magician
"If you want a reputation maker THIS IS IT!!! Joe is one of the MOST creative people in our business! You will not be
disappointed! It's Visual & Exciting" ..
- Murray Sawchuck - The Future of Personality Magic
"Wonderful...Magical...Works beautiful"...- Joaquin Ayala - Master Illusionist & Builder
"I Love your 3 Card Monti ! It is fun, fantastic, and fabulous ! A card trick to be seen !" ...
- Gay Blackstone Executive Producer World Magic Awards; Executive Producer Masters of Illusion; Past President The Academy of
Magical Arts at the Magic Castle
"The best 3 Card Monte version I've ever seen, including my own"...
-The Late Great Peter Pit Former Magic Castle E.D.
"Awesome & Hysterical routine that plays really big. Everything I need" ...
- Bob Sheets - Funniest Skilled Magician Alive
"The perfect excuse to put a club in your pants. This is an entertaining routine that plays big, packs flat and is easy to
learn" ...
- Meir Yedid - Magic Times Founder
"This time tested routine is an act in itself. As a traveling professional magician I am always looking for powerhouse
mysteries and this has it all...Comedy, a story line, great looking props and mind boggling Magic! I would stake my reputation
on 3 card Joe, and the first time you perform it in front of an audience, so will you!" ...
- Devlin -'The Matador of Magic' SAM Stars of Magic Magician of the Year
"The price for this professional routine is 3 times too cheap for 25 years of expertise. It's a silly name for a serious
routine but it's the only card effect I do along with my illusions because it kills! It also saves me money because I ship one
less Illusion!" ...
- James Brandon - International Illusionist & Artist